cincodias.com - J. F. MAGARIÑO - MADRID 21-03-2017 12:57
Minister De la Serna signs a memorandum of understanding with his Korean counterpart
The Asian country plans to run almost 2,000 kilometers of high-speed rail.
Spain takes positions on the infrastructure development plan that the Republic of Korea (South Korea) is going to deploy.
The Minister of Development, Íñigo de la Serna, has signed this morning a five-year Memorandum of Understanding on Infrastructure and Transport with the Korean Minister of Territory, Infrastructure and Transport, Kang Ho In. The objective is to define and consolidate cooperation between both countries, as reported the Ministry of Development.
Korea is a mature market, and with local players in the construction field, where, there will be developed a second round on the infrastructure sector, such as high-speed train or motorway network.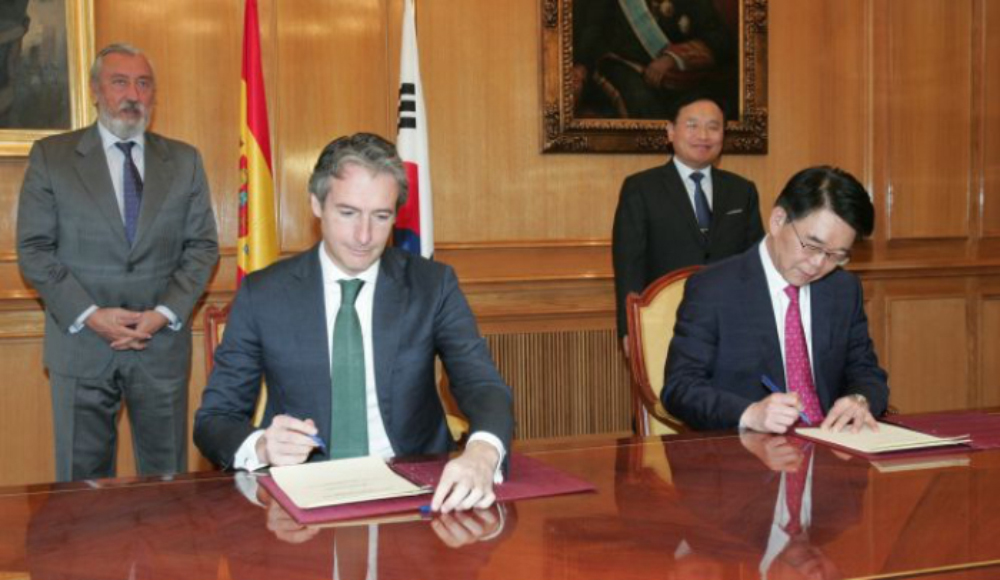 Its road network reaches 105,000 kilometers, with some 4,000 kilometers of public ownership highways. It is now time to invest in expansion to host the development of driverless vehicles.
South Korea is going to take one step forward in the infrastructures sector. The high-speed train or the highways network is a clear example. In railway sector, the Korean Republic has 3,400 kilometer road, with 400 kilometers on high speed. Its plans, which where designed in 2010, connect most of its big cities with high speed and are going to reach the 2,362 kilometers in 2020. Since the launch of this ambitious program there has been hardly any significant progress in setting up new road sections.
Another area of action is related to communication by train in metropolitan areas. In air transportation, the Incheon International Airport that is 60 kilometers away from Seoul is now expanding, with a second terminal expected to start operations in October 2017. The Ministery of Development has just arrived from promoting its companies and the Spanish construction sector in railways projects in Russia, in which the modernization of the Transiberian is immersed, through meetings at the highest level held last November in Moscow.
Scope of the agreement
The agreement between governments includes cooperation in the planning, development, construction and supervision of railway infrastructures, not only in conventional but also in high speed, and the management of operation of rail traffic. There is also field for train maintenance, workshop design, railway staff training and rail traffic management systems.
Cooperation between Spain and Korea could also involve road and motorway projects; Design and construction of Port infrastructure; Planning, construction and management of airport infrastructures and services; Development of air navigation systems and air traffic control; Or urban and housing reform and rehabilitation policies.
From the Ministry of Development is explained that cooperation could be materialized by the exchange of information, experiences and research; Advisory and technical assistance in drafting projects; Research and technological development; Exchange of experts; Organization of meetings, symposia, conferences and workshops; training programs and pilot projects.
Three years of previous contacts
Previous to today's signature of the collaboration agreement, Pre-signing contacts where held in 2014 between the then Minister of Territory, Infrastructure and Transport of Korea, Seoung- Hwan Suh and the Spanish Minister of Public Works at that time, Ana Pastor. There was agreed to draft a memorandum of understanding to serve as a framework for initiating collaboration in the field of transport and infrastructures. The first proposal was drafted by Spain.
In Febrary of the present year, a memorandum of understanding has been reached between Renfe and the Korean Railway Operator (Korail), in order to develop bilateral cooperation activities as part of the assistance between South Korean companies and Spanish companies in the public sector. The agreements objective is to exchange experiences and points of view for the improvement of performance, competitiveness and customer service.